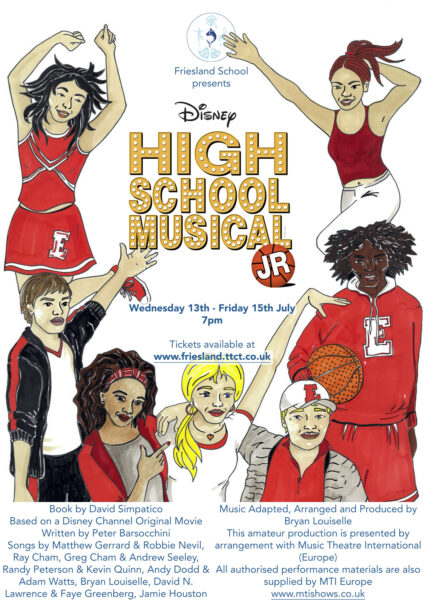 After a two year wait, we are pleased to announce that tickets for this year's Lower School Show, High School Musical, go on sale Monday at 8am!
It's the first day after winter break at East High. The Jocks, Brainiacs, Thespians and Skater Dudes all find their cliques. Basketball team captain and resident jock, Troy, discovers that the brainy Gabriella, a girl he met singing karaoke on his ski trip, has just enrolled at East High. The couple causes an upheaval when they decide to audition for the high school musical. Although many students resent the threat posed to the "status quo," Troy and Gabriella's alliance might just open the door for others to shine as well.
We do hope you will be able to join us for our first Lower School Show since 2019! It is highly likely that tickets will sell out quickly so to avoid disappointment, book your tickets early!
Tickets cost £8 for adults, £6 for children and a family ticket of 4 tickets costs £24.
Tickets are only available to purchase via our online box office, where you are able to select your seats and have your tickets sent direct to your email or phone – click here to book your tickets!
Disney's High School Musical Jr
Book by David Simpatico
Based on a Disney Channel
Original Movie Written by Peter Barsocchini
Songs by Matthew Gerrard & Robbie Nevil Ray Cham, Greg Cham & Andrew Seeley Randy Petersen & Kevin Quinn Andy Dodd & Adam Watts Bryan Louiselle David N. Lawrence & Faye Greenberg Jamie Houston
Music Adapted, Arranged and Produced by Bryan Louiselle
This amateur production is presented by arrangement with Music Theatre International (Europe)
All authorised performance materials are also supplied by MTI Europe www.mtishows.co.uk